June, 2020 by Sinead Whelan
In May of 2020, we looked back at the 1918 Flu Pandemic. We learned the lesson that when people came together too soon, there was a relapse allowing the flu to take more lives.
With summer in the air and many wanting to regain normalcy, we consider how our annual Gardens celebrations will be affected by the pandemic. No doubt some treasured events will need to be postponed or cancelled to keep our neighbors safe. During World War I and the pandemic of 1918, the July 4th Celebrations in The Gardens continued but evolved to reflect the mood of the times.
In 1917 when the US entered the war, July 4th was an all-day rally which began with soldiers parading from Flag Pole Green to Station Square led by honored guest Theodore Roosevelt who addressed a packed crowd. His message: we must all stand in support of our country and troops.
In 1918, with the war winding down, July 4th began with a gathering of troops on "The Green", children's games in the Russell Place playground and a dramatic production in the natural amphitheater Olivia Park.
In 1919, with the war over and the Spanish Flu under control, the activities again took the air of a normal July 4th celebration. The committee meeting to plan the events was held on June 12th at the Yale-Princeton Club hosted by Chairman Captain Powreroy. The committee was appointed to cover dancing, music, children's games, tennis, military affairs, posters, printing, decoration, safety and police.
On June 28th, The Forest Hills Gardens Bulletin made a proclamation:
Ultimately, the July 4th Celebration evolved into "Children's Day," an annual event held by the Celebrations Association on the first Saturday in June on Flagpole Green. Featuring face painting, hot dogs, raffles and games, it's a wonderful way to kick-start summer and continue our strong community spirit.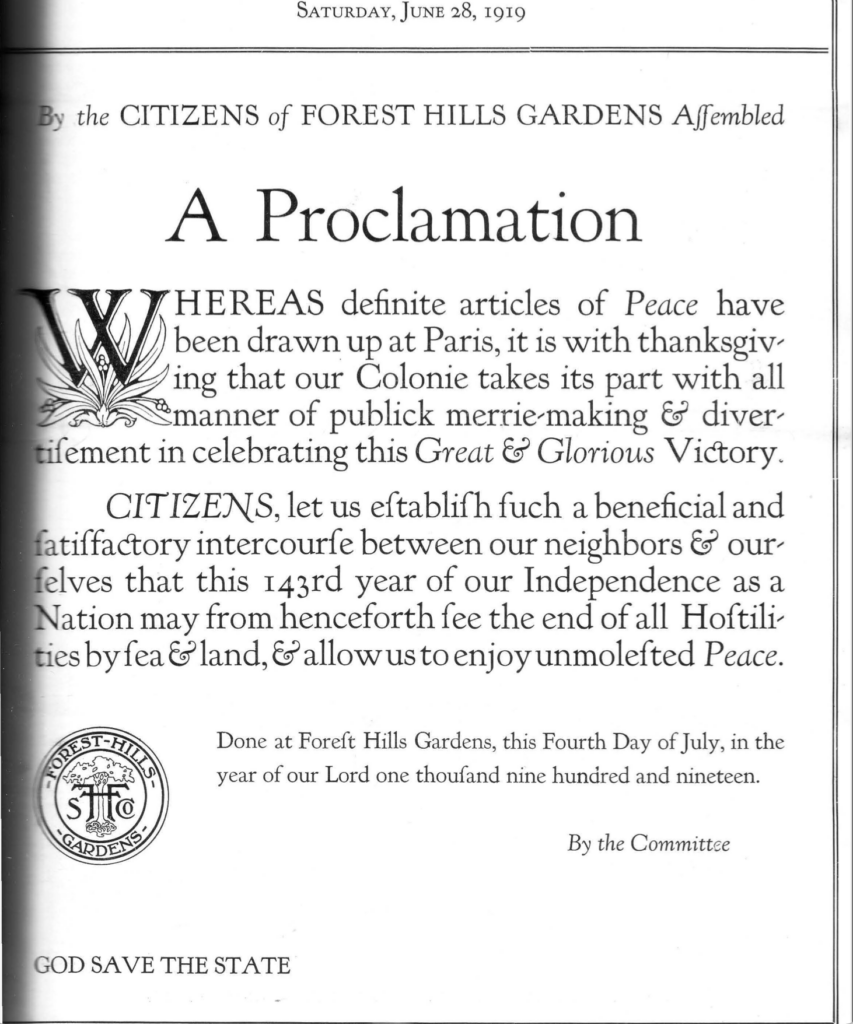 Unfortunately, this year Celebrations has made the tough decision to cancel summer activities to help reduce the spread of Covid-19.
So in 2020 we take a pause and look forward to future celebrations that will bring our community together again. In 2021, as in 1919, perhaps a real celebration will be in order. We will have defeated the enemy.